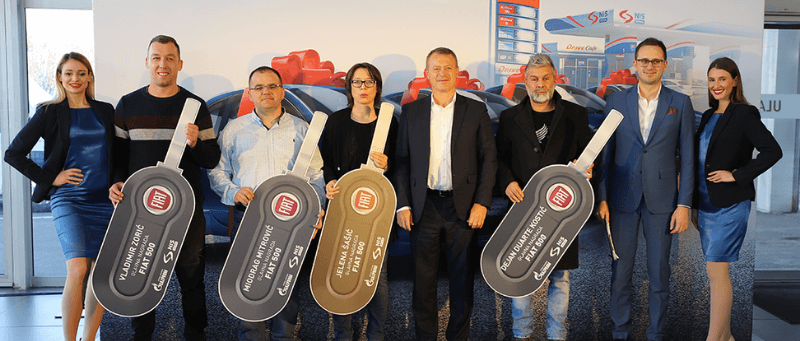 Dejan Kostić from Obrenovac, Vladimir Zorić from Inđija, Jelena Šašić from Zemun and Miodrag Mitrović from Šabac were handed the keys to the new FIAT 500 by Pavel Kandalincev, Director of the NIS Retail Directorate, at a ceremony held at the premises of Kole Car Dealer in Zemun.
Wishing to reward its loyal consumers for their trust, NIS organised a prize contest Sa nama na putu to a new car lasting from 1 to 30 of November last year, awarding two winners with FIAT 500 and a thousand customers won a full-tank load of fuel. Thanks to the great response from drivers to the November big prize contest, the NIS Company continued to give rewards during the last month of the last year. As part of the prize competition Sa nama na putu to two more cars, lasting from 1 to 30 of December, two more lucky winners became proud owners of FIAT 500 cars, whereas another 1000 consumers won additional bonus points on Sa nama na putu loyalty cards worth 50 litres of fuel.
As a company that maintains and continuously builds up relationships with its consumers, NIS wanted to express its gratitude to its loyal customers for their trust. Among other things, NIS has been developing the Sa nama na putu loyalty program for years, enabling the customers to collect bonus points and make significant savings on every purchase of fuel, goods and services at NIS Petrol and Gazprom petrol stations. Consumer satisfaction and loyalty are the key incentives for the company to continue improving the quality of its products and services for drivers to enjoy from the largest retail network of petroleum products on the domestic market comprising more than 300 NIS Petrol and Gazprom petrol stations throughout Serbia.