In the south of Serbia, about 90 kilometers from Niš, there are 202 stone figures that make up Đavolja varoš (Devil's town), a protected national treasure of Serbia, and they are the source of many stories, because they are a rare natural phenomenon. The figures are supposed to had been created by erosion, but people prefer to hear legends…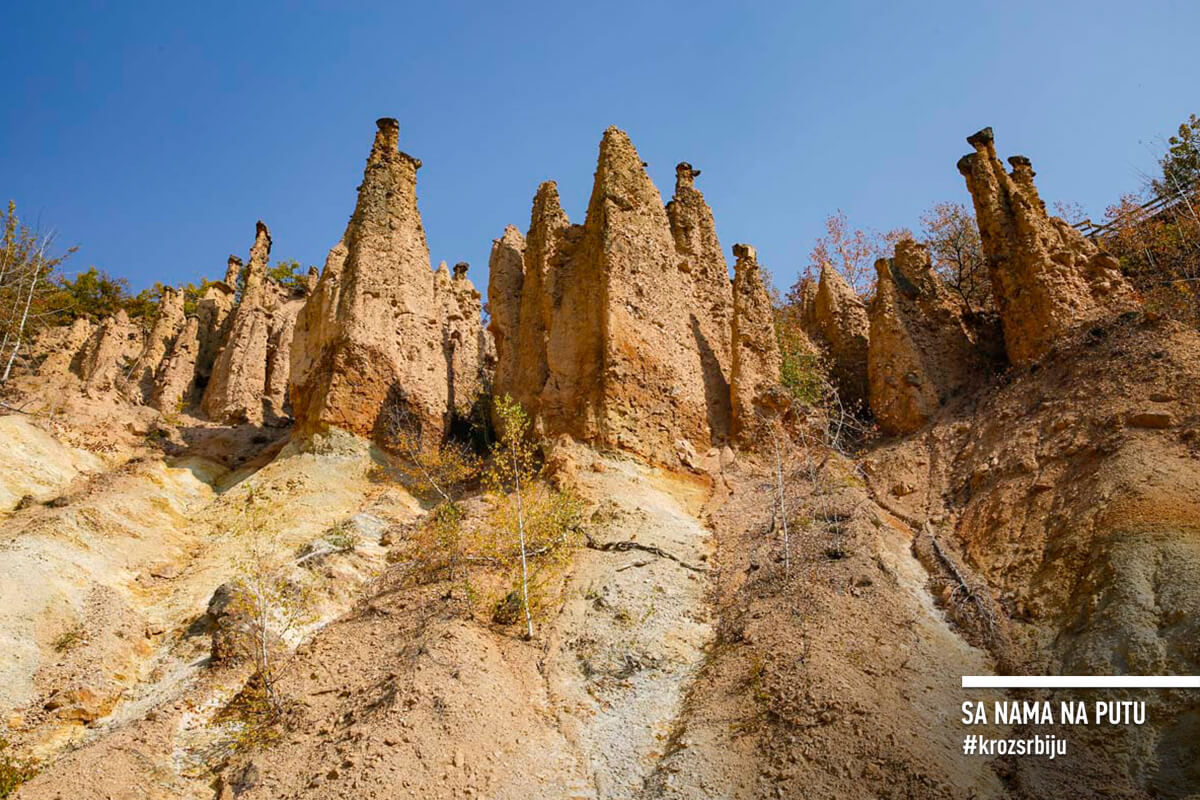 Candidate for a new world wonder
About ten years ago, Đavolja varoš was the only European candidate in the selection for one of the wonders of the world. Unfortunately, the candidate of Serbia and Europe did not become a new wonder of the world then, but it certainly deserves to be visited, because it is a natural phenomenon, unnoticed in the world (something similar exists in America, Austria and Italy).
Đavolja varoš – Devil's Town is a natural monument in the south of Serbia. It is located 28 kilometers from the city of Kuršumlija, and 290 kilometres from Belgrade. The exact location of this place is near the villages of Dobri Do and Đake (from the Albanian word "gjake" – blood).
Everything in this place is mystical. From famous figures, mines, to two springs of cold and very acidic water with high mineralization (Devil's water and Red spring), so it is not surprising a story is passed from generation to generation in this area, that from the ancient times, that a devil meddled in these affairs here ", so very few dare to step into that water at all, because "the devil could mess with their minds".
The age of the rocks at the top of this locality is estimated at about 25 million years, and it is believed that they got this appearance thanks to soil erosion, i.e., volcanic eruption and "washing off" of the soil. So, first a stone is created, and from that stone figures are created and this process is constantly repeated – some figures disappear and new ones are created.
"It is as if the Devil's town is really alive and it is as if the devil really got his fingers in it," the hosts tell us. It is, indeed, a rare geomorphological phenomenon, which ranks it in the Top 77 in the world, 23rd in Europe and 4th in the category of stone. The Devil's Town consists of 202 earthen figures of various shapes and heights, which have stone "caps" on the tops, and these figures are placed in two ravines of "exotic" names – the Devil's and Hell's.
For the people of this area, the Devil's town is a way of life and they are close to them, let us say, nurturing, various stories about this locality. The most famous legend is that the earthen pillars are actually petrified wedding guests. In the whole story, the main role, of course, belongs to the devil, whose promises of a rich life were settled by the local population.